Grab Some Popcorn!
Windup works by running against an application and generating a report, which details the migration effort at a high level, and then links to detailed resource reports.
The video to the left walks through running Windup and reviewing the Windup report. Browse the report yourself by checking out the Demo Report.
We refer to these reports as the 10,000 Foot View and Resource View, respectively.
The 10,000 Foot View
Life is too short to manually sift through tons of files. Windup pulls all relevant application details together in one place, the 10,000 foot view, which is your starting point for examining the migration effort.
Within this view, the effort is classified as Story Points. Vendor specific implementations are highlighted, graphed by commonality, and resources requiring effort are linked to for a deeper view into the migration.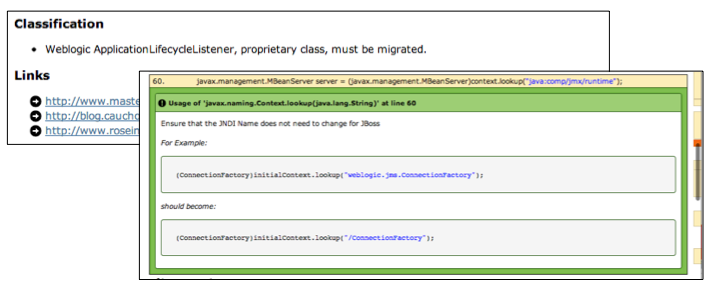 The Resource View
From the 10,000 foot overview, you can drill down to into specific resources. The Resource View provides full syntax highlighting over the resource, as well as inline hints.
The Resource View may also provide links to other relevant articles, to give you background information on a migration strategy. Classifications of the resource are displayed at the top as well, to provide background information on the resource.
Check Out The Demo!
Seems interesting. But what does the output look like? Explore yourself!